Our technology covers the full range of rice and paddy handling from pre-cleaning, paddy storage, dryers, hullers, polishers, rice whiteners, optical sorters through to bagging. Win Tone offers wide product portofolio for paddy processing line starting from 1 tons/per above and above.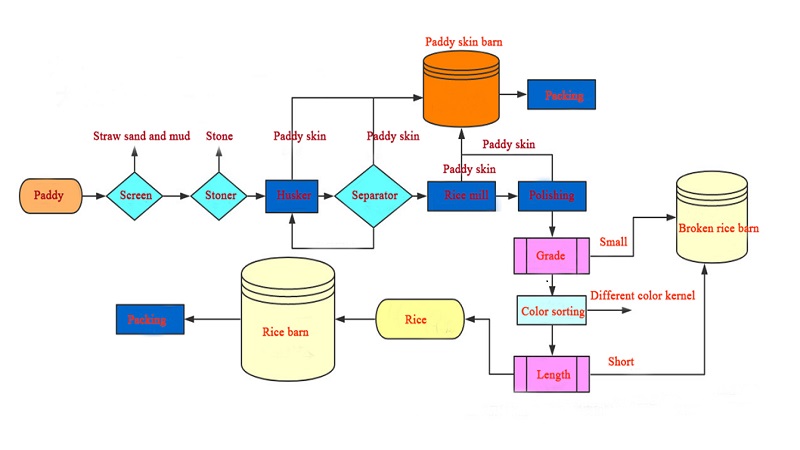 Overview rice processing solutions
1. Paddy reception and handling:
Reliable high-performance bulk and bagged paddy reception plus conveying systems are key contributor to success in production.
2. Pre-cleaning:
The application of drum sieve, vibrating sieve, destoner can efficiently separates coarse impurities such as pieces of straw, bag tapes, paper, pieces of wood and leaves, successfully protecting downstream processing and conveying systems from machine damage.
3. Paddy drying:
Drying is one of the critical steps in paddy processing and, in addition to removing excess moisture content from raw material, it also has a major influence on the process efficiency, yield and final product quality.
4. Paddy storage systems:
Win Tone can supply a range of storage systems to suit individual requirements, environment and conditions.
5. Cleaning:
Win Tone's fine cleaning system includes paddy separator with aspiration, magnetic separator and destoner, which
6. Hulling:
Designed to be powerful & reliable – MLGT huller is a perfect fit in modern rice mills.
7. Whitening & Degermination:
The combined whiteners can reduce elevators for the structure of the downward entering and upward existing. The degerminator is used for degermination during rice processing
with good performance, energy consumption and return on investment.
8. Polishing:
Polishing roller is composed of many half stainless steel ball. Fully autonmatic with smart operation
9. Grading:
Highly efficient solution for classifying white rice by its kernel size and configured to adapt to requirements.
10. Optical sorting:
It is refined and compact in architecture,it is firmly and reliable.Adopting userfriendly interface,it is easy and flexible in operation.
11. Weighing, dosifying and bagging:
Automatic Flow Balancer, Differential proportioning scale, Reduce manpower costs, User-friendly operator interface