Whole grain mills application:
  Win Tone TWFS series of environmental friendly super fine whole grain mills can process wheat, corn, buckwheat and other grains into fine flour with 80-200 meshes. The processing capacity can reach 150kg-1t. The whole grain mills are the ideal fine flour milling equipment for pharmacy, food and chemical enterprises.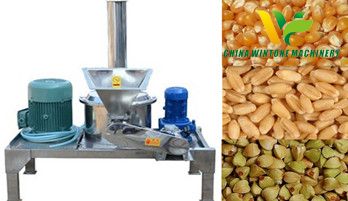 Whole grain mills working principle and features:
  Whole grain mills adopt advanced technology and high-frequency vibration according to different features of different material. Its stainless steel blade strikes, cuts, rubs and squeezes the material in the grinding cylinder with high speed and realizes reasonable grinding efficiency within very short time. Its flour milling granularity mesh can be adjusted according to the inner air classification device. This can also prevent excessive flour milling.
  Whole grain mills are equipped with water-cooling system, which can control the processing temperature and ensure the material has no invariance during processing.
  Inside of the whole grain mills is installed the air classification system. The end products fineness can be adjusted between 80-200 meshes according to requirements.